Ho Ho Cake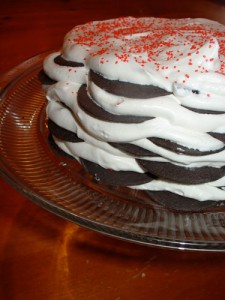 Bill and I had this at a party and LOVED it.  It is a super simple recipe and rather easy to make and tastes like Ho Hos.  Given the upcoming holiday, Valentine's day, I though the light fluffy whipped topping combined with the chocolate wafers and the red sugar sprinkles were a perfect match for a Valentine's day dessert.
Ingredients
4 cups heavy whipped cream
3 tablespoons sugar
1 tablespoon plus 1 teaspoon vanilla extract
1 1/2 packages Nabisco chocolate Wafer Cookies
Directions
Combine the cream, sugar and vanilla in a large bowl.  Whip until soft peaks form.  Do not over mix.  Place a cookie in the center of a plate that is at least 9 inches in diameter.  Arrange 6 cookies around the center one, forming a circle.  Spread a layer of the cream mixture onto the cookie layer.  Repeat the layers, ending with whipped cream. You can also surround the outside of the cake with whipped cream to add a move finished touch.   Garnish with decorative sugars, chocolate shavings, cocoa, etc.  Refrigerate at least 5 hours or overnight before serving.
Notes
The Nabisco Chocolate Wafer Cookies are sometimes hard to find.  I found mine in the ice cream section of the grocery store.
Facebook Comments