Baked Macaroni and Cheese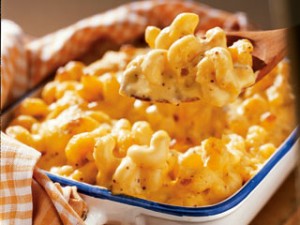 Baked Macaroni and Cheese is a favorite of ours to serve at pot luck dinners. My kids say it is better than the boxed mac mac cheese (Lyndsey language). Leftovers are great!
Ingredients
2 tablespoons corn starch
1 teaspoon salt
1/2 teaspoon dry mustard
1/4 teaspoon pepper
2 1/2 cups milk
2 tablespoons margarine or butter
2 cups shredded cheddar cheese, divided
8 ounces macaroni, cooked 7 minutes and drained.
Directions
In a medium saucepan, combine first 4 ingredients; stir in milk. Add margarine, stirring constantly, bring to a boil over medium-high heat and boil 1 minute. Remove from heat. Stir in 1 3/4 cups cheese until melted. Add macaroni. Pour into a greased 2 quart casserole or a 9×9 inch pan. Can spray with Pam. Sprinkle reserved cheese on top. Bake uncovered in a 375* oven for 25 minutes or until lightly browned.
Notes
Can be made up to baking ahead of time. May need to add a little extra time in the over if refrigerated first. Can be easily doubled.
Facebook Comments