Tom's Famous Chili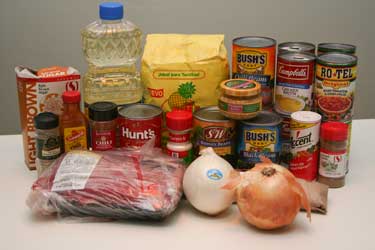 Tom's Famous Chili is an award winning chili, which is rarely the same thing twice. Below you will see my general guidelines, but I rarely stick to them. Next time I am going to add some more beans, some more chili powder, some more rotel, and maybe even a little oregano. We typically make this every Halloween and then at least once a month until it is too hot outside to eat chili.
Ingredients
3 pounds tri-tip, cut into ¼ inch cubes
2 Tablespoons Vegetable oil
1 pound ground sausage
1 large white onion finely chopped
2 tablespoons garlic
1 can chicken broth
1 can beef broth
5 cans Rotel
15 ounces tomato sauce
2 cans kidney chili beans
2 cans black chili beans
2 cans pinto chili beans
2 tablespoons cumin
3 tablespoons Gebharts chili powder
Juice from 1 lime
½ teaspoon garlic powder
½ teaspoon onion powder
1 tablespoon green Tabasco
1 tablespoon brown sugar
1 teaspoon Masa Harina (or regular flour)
Directions
Brown tri-tip in batches in vegetable oil, remove and set aside. Brown sausage in same pan, then add onions and cook until tender. Add garlic and cook a couple minutes. Add beef, broth, rotel, tomato puree, beans, cumin, chili powder, garlic and onion powders, Tabasco, and lime juice. Cook a couple hours. After beef is tender, add brown sugar and Masa Harina, cook another hour. Enjoy.
Notes
Serve with cheese, sour cream, and cornbread.
This freezes well.
Is often better the next day, whether frozen or just stuck in the fridge.
I often start this in the morning to have it ready for dinner and left overs for a couple weeks.
Facebook Comments