Butternut Squash Soup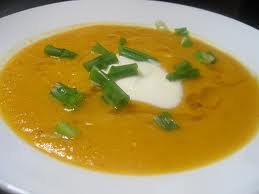 The name pretty much sums it up. Great for a light meal in the fall!
Ingredients
2 tablespoons butter
2 large leeks (white and pale green parts only), chopped
1 large onion, chopped
1 large potato, peeled and cubed
2 cups cubed butternut squash
1 cup diced carrots
1 Granny Smith apple, peeled, cored, and sliced 1/4 inch thick
1 quart chicken stock
1/4 cup dry white wine
1/4 teaspoon ground nutmeg
salt and pepper to taste
cream to taste(optional)*
2 tablespoons chopped chives
Directions
Melt butter in a large pot over medium heat. Stir in leeks and onions, and cook until the onion softens and turns translucent, about 5 minutes. Add potato, squash, carrots, apple, and chicken stock. Bring to a boil, then reduce heat to medium-low, cover, and summer until the vegetables are soft, about 20 minutes.
Carefully puree the soup in batches in a blender, or use a stick blender to puree the soup right in the pot. Once the soup has been pureed, return it to the pot and stir in wine (and cream). Season with nutmeg, salt, and pepper; simmer gently for 5 minutes. Garnish with chopped chives.
Notes
*The original recipe called for cream, but my dad and I decided to cut it…it tasted great without it!
Facebook Comments