Sandestin Italian Appetizer Bites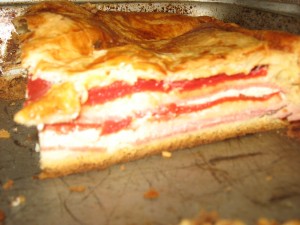 Some of the Rumpke Family members were vacationing in Destin, FL and we made this recipe. We all agreed it was a keeper. Very easy to make and good.
Ingredients
2 packages (8 ounces each) refrigerated crescent rolls
1/2 lb. sliced deli salami
1/2 lb. sliced provolone cheese
1/2 lb. sliced boiled deli ham
7 eggs
1 cup grated Parmesan cheese
2 jars (12 ouunces each) roasted red peppers, drained
Directions
Heat oven to 350.
Coat a 13×9 glass baking dish with nonnstick cooking spray.
Unroll 1 package of the crescent rolls and use dough to line the bottom of prepared baking dish. Pinch seams together with fingers.
Cover rolls with half of the salami, provolone and ham.
Ligthtly beat together 6 of the eggs and the Parmesan; pour half evenly over top.
Top with half of the roasted red peppers. Repeat layering with remaining salami, cheese, ham, egg mixture and peppers.
Top with remaining package of crescent rolls.
Lightly beat remaining egg and brush over top.
Cover dish with foil; bake at 350 for 30 minutes.
Uncover and bake 30 more minutes.
Cool for 1 hour.
Notes
cut into 32 squares and serve.
Facebook Comments