Hanky Pankies
Hanky Pankies are traditional fare at any family get together.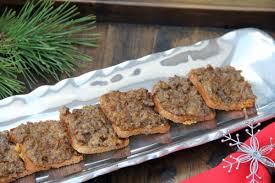 Ingredients
1 pound Bob Evans (hot or mild) sausage
1 pound ground chuck
1 pound Velveeta cheese
1 teaspoon garlic powder
1 teaspoon oregano
1 teaspoon red pepper or dash of red pepper sauce
onion, optional
2 loaves party Rye bread
Directions
Brown meat and onions. Drain. Combine remaining ingredients until cheese melts. Spread on party rye. Freeze on cookie sheets for 5 minutes, then put in bag and freeze and use as needed. Bake at 5-6 minutes until cheese is melted.
Notes
Hanky Pankies are great to keep on hand and pull out for those surprise visitors.
Facebook Comments