Corned Beef and Cabbage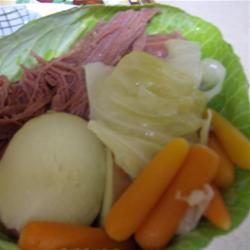 Corned beef and cabbage is the traditional Irish dish used as the centerpiece for many a St. Patrick's Day table.
Ingredients
4 1/2 pounds corned beef brisket
1 teaspoon peppercorns
1/2 teaspoon garlic powder
1 medium onion, cut in eights (or so)
2 bay leaves
1 pinch salt
1 medium head cabbage, cored and cut into wedges
12 medium potatoes, quartered
4 large carrots, peeled and sliced
1/4 cup chopped fresh parsley
2 tablespoons butter
6 pack of Irish beer, I like Harp (optional)
Directions
In a 6 quart Dutch oven, Place the beef brisket, peppercorns, garlic powder, 1/2 onion, bay leaves, 1 bottle/can of beer, and salt. Fill pan with water to cover everything plus one inch. Bring to a boil and cook for 20 minutes. Skim off any residue that floats to the top. Reduce heat to a simmer and cook for 2 to 3 hours, until meat can be pulled apart with a fork.

While cooking and waiting drink a couple bottles of beer.


Once the meat is done, add the potatoes, carrots, cabbage and other 1/2 onion, pressing them down into the liquid. Simmer for an additional 15 minutes or until the potatoes are tender. Skim off any oil that comes to the surface. Stir in the butter and parsley. Remove the pot from the heat.

Drink a couple more beers.


Remove meat from the pot and place onto a serving dish and let rest for 15 minutes. Also remove vegetables to a bowl and keep warm. Slice meat on the diagonal against the grain. Serve meat on a platter and spoon juices over meat and vegetables.
Notes
Serve with mustard or horseradish if desired.

Can also be made in a crock pot.

Have someone bring some more beers over, because you already drank all of yours.

Facebook Comments