Broccoli Salad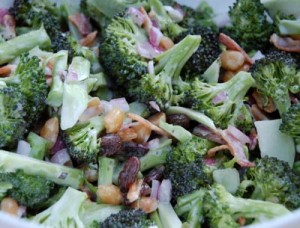 Everyone enjoys this and it is easy to double or triple and bring to a pot luck.
Ingredients
1 cup mayonnaise
1/3 cup sugar
2 tablespoons red wine vinegar
1 head broccoli
2 small boxes raisins
1 small bag Spanish peanuts with skins
1/2 cup red onion
Directions
Mix an set aside mayonnaise, sugar and red wine vinegar. Chop broccoli including stems. Add raisins, peanuts and red onion. Add dressing and toss. Refrigerate and serve chilled.
Notes
This is a great recipe to make ahead when you are crunched for time
Facebook Comments