Jewish Apple Cake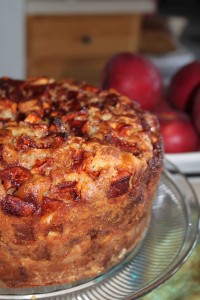 This cake is a very rich and wonderful fall cake that highlights those fresh picked apples.
Ingredients
3 cups unsifted flour
3 teaspoons baking powder
2 cups sugar
4 eggs
1 cup oil
2 1/2 teaspoon vanilla
1/4 cup orange or pineapple juice
2 pounds (5 large or more) pared, sliced or chopped apples
1/2 cup sugar
3 teaspoons cinnamon
Directions
Preheat oven to 350*.  Mix flour and baking powder in a medium bowl.  Beat sugar, oil, eggs and vanilla well in a large bowl.  Add flour and juice alternately to egg mixture.  Beat well.  Grease well and flour a large tube pan.  Start with a layer of batter and then a layer of apples, Sprinkle with sugar and cinnamon mixture.  Make 3 layers ending with apples.  Bake at 350* for 1 hour and 20 minutes to 1 hour and 30 minutes.  After the cake is done, leave it in the pan until cold.
Notes
This cake is better if it is not cut until the next day.  It also freezes great.
Facebook Comments