Shrimp and Feta Tabbouleh
Submitted by
Kim Wissman
on Friday, November 7, 2008 12:25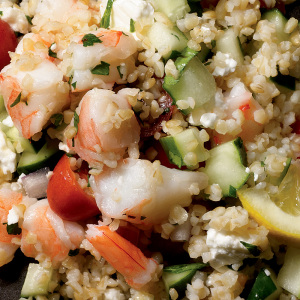 This is a light summery recipe and so good for you, it can be made any time.
Ingredients
2/3 cup medium grind bulgur (next to the rice in most grocery stores)
1 2/3 cup water
1/3 cup fresh lemon juice
12 ounces precooked peeled or thawed frozen shrimp, coarsely chopped
3/8 teaspoon black pepper
1 cup diced cucumber
1 pint grape tomatoes, chopped
1/2 cup chopped red onion
1/2 cup fresh cilantro, chopped
2 tablespoon olive oil
1/2 cup crumbled feta cheese
1/4 teaspoon salt
Directions
In a saucepan, combine bulgur, water and 2 tablespoons lemon juice; bring to a boil. Cover and simmer until tender, about 15 minutes. Drain and let cool. Place shrimp in a large serving bowl. Sprinkle with 2 tablespoons of lemon juice and 1/8 teaspoon pepper. Let stand for 5 minutes. Stir in cucumber, tomatoes, onion, cilantro, oil and cheese. Add salt, remainging lemon juice and remaining 1/4 teaspoon pepper and toss. Stir in bulgur. Divide evenly into four serving bowls.
Notes
Some have said that this can be made with quinoa instead of the bulgur.
Facebook Comments