Pumpkin Curry Soup
Submitted by
Mary Watson
on Saturday, November 8, 2008 8:45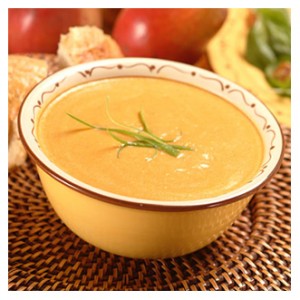 A delicious fall soup.
Ingredients
4 tablespoons butter
2 cups onion, chopped
4 cloves garlic, crushed
3 teaspoons curry powder
1 teaspoon salt
1/2 teaspoon white pepper
6 cups chicken broth
1 large can solid pack pumpkin
12 ounce can evaporated milk
Directions
In a large soup pot, melt butter. Sauté onion and garlic until soft. Stir in curry powder, salt and pepper, cook one minute. Add broth and pumpkin, simmer uncovered for 15 minutes. Stir in evaporated milk.
Notes
Top with seasoned croutons.
Facebook Comments