Easy Beef Stew
Submitted by
Beth Rumpke
on Monday, October 13, 2008 22:13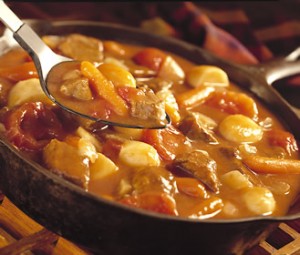 This stew is a meal unto itself, very hearty and flavorful. This recipe calls for various spices, you may have some of your own favorites to throw in.
Ingredients
2 pounds Stewing meat, cubed
1 can Cream of mushroom soup
1 can Cream of chicken soup
1 package Dried onion soup mix
1 can Red or rose wine (soup can)
1 Onion, diced
1 Green pepper, diced
2 stalks Celery
12+ New potatoes with skins
12+ Baby carrots
Directions
Mix first 5 ingredients together in a large casserole dish with a lid. Stir well. Bake at 350 for 2 hours or 250 for 5 hours. During last hour, add all the vegetables.
Notes
Makes a thick stew, can eliminate the potatoes and serve over noodles or rice.
Facebook Comments