Dirt Pudding with WORMS!
Submitted by
Erin Rumpke
on Tuesday, March 31, 2009 11:45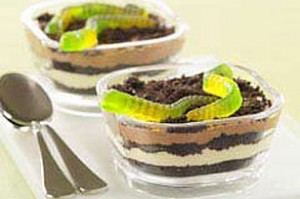 yummy childhood favorite!
Ingredients
1/2 pack of Oreo Cookies
1 1/2 cups milk
1 3 oz box of french vanilla instant pudding
1 8 oz container of cool whip
2 TBSP butter
4 oz cream cheese
1/2 cup sugar
Directions
crunch oreos in food processor. Combine remaining ingredients in a separate bowl. Layer in glass dish with crushed cookies, decorate with Gummy Worms.
Notes
Looks great in a trifle dish for summer parties. Also great for making individual servings in small clear cups for play group! Courtesy of my best-friend's mother, Judy Justice. This recipe holds a special place in my heart, was a neighborhood favorite growing up! Thanks Ms. J!
Facebook Comments