Cream Cheese Tortillas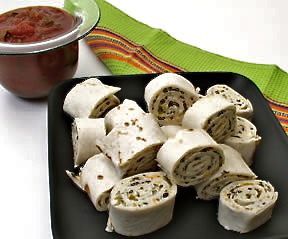 A tasty little appetizer that can be whipped up in minutes.
Ingredients
3 small packages Cream cheese, softened
2 small packages Buddig Beef, chopped
4.5 ounce jar Jalapeños, chopped (add a little juice and seeds)
1 package Large burrito soft tortilla shells
Directions
Mix above ingredients and spread on a burrito tortilla shell.  Roll tortillas and wrap in Saran Wrap.  Refrigerate overnight.  Slice into pinwheels and serve with salsa.
Notes
Serves a lot, fills a layered platter.
Facebook Comments