Cheese Kuchen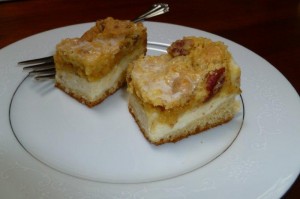 This was a recipe give to me by Kristi Kenney, John's daughter. I've made it several times and get rave reviews. Delicious!!
Ingredients
1 1/2 cups yellow cake mix
1 package dry yeast
1 cup flour
2 eggs
2/3 cup warm (not hot) water
2 packages (8 ounces) cream cheese
2 eggs
1/4 cup sugar
1 tablespoon flour
1 1/4 tablespoon lemon juice
Remainder of yellow cake mix
6 tablespoons butter
1 cup chopped pecans
1 cup powered sugar
1 tablespoon white Karo syrup
2 tablespoons water (more more if needed)
Directions
Beat together first 5 ingredients and spread in a 9 x 13″ pan. Beat together next 5 ingredients for 2 minutes and spread on first layer. Mix next three ingredient until crumbly and spread on top. Bake in 350 oven for 40-45 minutes. Cool.
Icing: Mix last three ingredients together and drizzle on top of cooled cake. Store covered.
Facebook Comments