Buckeyes
Submitted by
Beth Rumpke
on Monday, October 13, 2008 19:50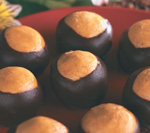 These peanut butter balls dipped in chocolate get their name from their resemblance to the nut of the buckeye tree. The chocolate does not have to be tempered, although this step makes dipping easier.
Ingredients
1 1/2 lbs Powdered sugar, sifted
1/2 lb Melted butter
1 lb Creamy peanut butter
1 lb Dark cocoa wafers, melted in a double boiler
Directions
Combine the first 3 ingredients, kneed with a pastry blender until smooth and can no longer see the powdered sugar. Refrigerate the candy until it hardens. Melt the chocolate on low. Use a melon baler to form candy into a ball. With a toothpick, dip ball into the chocolate mixture. Place on sheet of wax paper to harden. Cover toothpick mark by pinching with a spoon. Refrigerate until ready to eat.
Notes
These are great in the winter, and as gifts.
You should Temper the Chocolate (click here)
Facebook Comments