Buckeyes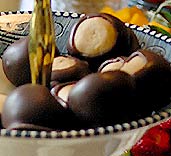 O-H-I-O. Go Bucks!
Ingredients
1-18 ounce jar creamy peanut butter
1 cup (2 sticks) butter or margarine, softened
1 1/2 (16 ounces) packages powdered sugar, sifted
1 teaspoon vanilla
2 cups (12 ounces) semisweet chocolate morsals
2 tablespoons shortening
Directions
Beat peanut butter, butter and vanilla at medium speed with a mixer until well blended. Gradually add powdered sugar, beating until blended. Shape into 1 inch balls. A spring melon baler works well for this. Chill 1 hour or so until the peanut butter balls are firm. Melt chocolate chips and shortening in a double boiler. using a wooden toothpick, dip each ball in the chocolate mixture until partailly coated. Place on wax paper to harden. Smooth over toothpick hole to cover it up. Store in an airtight container.
Notes
Facebook Comments