Blueberry Tea Bread
Submitted by
Beth Rumpke
on Monday, October 13, 2008 18:28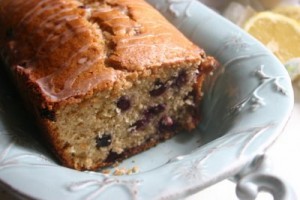 Dense/heavy and perfect for Brunch Tea or Late Afternoon Tea. I usually make this instead of donuts or something too sweet.
Ingredients
2 tsp Baking powder
1/2 tsp Salt
3 cups Cake flour
1 1/2 cup Sugar
2 tbsp Sugar
1/2 cup Light corn oil spread (1 stick)
1 cup 1% milk
1 tbsp Vanilla
1 Large egg
1 1/2 cup Blueberries
1 tbsp Slivered almonds
1/2 tsp ground cinnamon
Directions
Preheat oven to 350. Grease a loaf pan (9×5) with non-stick cooking spray. In a large bowl, mix baking powder, salt, 3 cups flour, 1 ½ cup sugar. Reserve 1 tablespoon corn oil spread for crumb topping. With a pastry blender, cut remaining corn oil spread into flour mixture until it resembles fine crumbs. Stir in milk, vanilla and egg until flour mixture is just moist. Gently stir in blueberries. Spoon batter into loaf pan. Coarsely chop almonds. In a small bowl, mix almonds, cinnamon, 2 tablespoons sugar and reserved corn oil spread until coarse crumbs. Bake 1 hour and 20 minutes until toothpick inserted comes out clean. Cool loaf in pan on wire rack about 10 minutes. Remove and allow to cool on rack.
Notes
Facebook Comments