Black Bean and Mozzarella Salad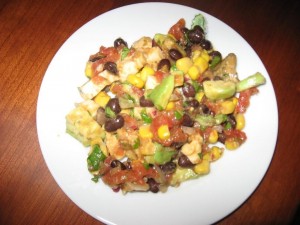 Kim found this recipe in a magazine when she lived in CA. The Drew's vinaigrette was difficult to find at first, but I see it everywhere now.
Ingredients
1/4 cup smoked tomato vinaigrette (such as Drew's) (I used 1/2 cup)
1 can (15 oz.) black beans, rinsed and drained
1 tsp. ground cumin
2 cups fresh corn kernels (about 2 large ears) or frozen or canned
2 ounces smoked mozzarella, diced (I used more)
1 pint cherry tomatoes, quartered
1 coarsely chopped avocado
1/2 cup finely chopped red onion
1/4 cup chopped fresh cilantro
Directions
In large bowl, combine all ingredients and refrigerate so flavors can blend.
Notes
Instead of the cherry tomatoes, I used a can of chopped tomatoes drained.
Facebook Comments