Baby Blue Salad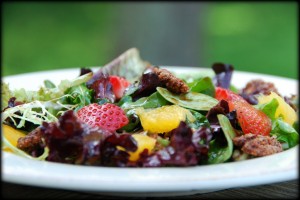 Baby Blue salad is the salad that has been served over and over again at many bridal and baby showers.
Ingredients
3/4 mixed salad green
Balsamic vinaigrette
4 ounces blue cheese crumbles (or feta, if desired)
2 oranges, peeled and cut into thin slices
2 pints strawberries, quartered
Directions
Toss greens with Balsamic Vinaigrette and crumbles blue cheese (Maytag or Danish Blue Cheese.) Place on 6 individual plates. Arrange orange slices over greens, sprinkle with strawberries and top with Sweet and Spicy Pecans.
Notes
Bags of salad green can be used, bottled balsamic viniagrette and mandarin oranges. Check out the recipe for Sweet and Spicy Pecans to top off this salad.
Facebook Comments