Wild Rice Soup
Submitted by
Mary Watson
on Sunday, March 29, 2009 18:54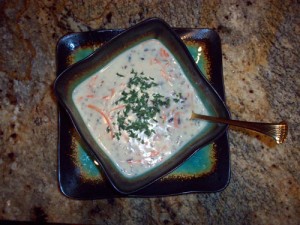 Very rich with great nutty texture; it's delicious! You can omit the Sherry if you want. I added a little bit of Chardonnay to mine because a little Chardonnay with anything makes it better.
Ingredients
6 Tbs. Butter
1 Tbs. chopped onion
1/2 C flour
3 cups chicken broth
2 cups cooked wild rice
1/2 cup shredded carrots
1/2 cup diced ham
3 Tbs. slivered almonds, chopped
1/2 Tsp. salt
1 cup half & half
1 Tbs. Dry Sherry
Parsley or chives – fresh snipped
Directions
Melt butter insaucepan; saute onion.
Blend in flour;
gradually stir in chicken broth.
Cook over medium heat, stirring constantly until mixture comes to a boil; boil and stir for 1 minute.
Stir in the rice, carrots, ham, almonds & salt. Simmer about 5 minutes.
Stir in the half & half and sherry, then heat soup to desired serving temperature.
Garnish with parsley or chives.
Notes
You will want to double this recipe because it's so good!
Facebook Comments