Taco Soup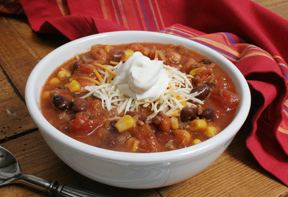 This is a Mexican Fiesta in a bowl. A very hearty soup, almost a chili, with a Mexican flare. It is super easy to prepare if you can open cans.
Ingredients
1 pound lean ground beef (can use ground turkey or a combination)
1 large onion, chopped
3-16 ounce cans Mexican style Chili beans
1-16 ounce can whole kernel corn, undrained
1-16 ounce can chopped tomatoes, undrained
1-15 ounce can tomato sauce
1 1/2 cups water
1-4.5 ounce can shopped green chilies
1 package taco seasoning mix
1 envelope ranch style salad dressing mix
Topping: Tortilla chips, grated cheese, sour cream, avocado.
Directions
Cook ground beef and onion in a large Dutch oven over medium heat until meat is browned, drain. Stir in beans and next 7 ingredients. Bring to a boil; reduce heat and simmer 15 minutes. Serve with toppings.
Notes
May be frozen o to 3 month. Try not to serve to Brian if you make it with turkey!
Facebook Comments