Chicken Romano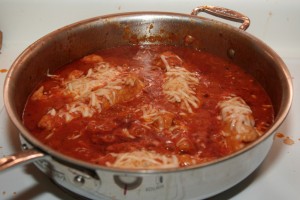 This chicken dish is courtesy of Jen Pearson, family Friend of Sarah Wissman. It is very tasty, and is easy to make. You can serve it over some rice for a full meal.
Ingredients
3 Split, skinless chicken breasts
½ cup Flour (with some salt and pepper)
¼ cup Vegetable oil
¼ cup Minced onion
2 cups Tomato juice
2 tablespoons Parmesan cheese
1 tablespoon Sugar
½ teaspoon Salt
½ teaspoon Garlic salt
½ teaspoon Oregano
½ teaspoon Basil
1 cup Shredded cheese
Directions
Place flour in a baggie and one at a time, put in chicken and shake to coat. Heat oil over medium heat until a drop of water sizzles. Brown chicken slowly. Remove chicken. Brown onions until soft. In a separate bowl, combine all but the cheese. Add this mixture to onions in skillet. Return chicken to sauce. Cover, turn heat to low and simmer about 30 minutes. When chicken is tender, sprinkle cheese over, and heat until cheese melts (leave lid off).
Notes
Facebook Comments