Puppy Chow
Submitted by
Molly Rumpke
on Saturday, November 8, 2008 9:01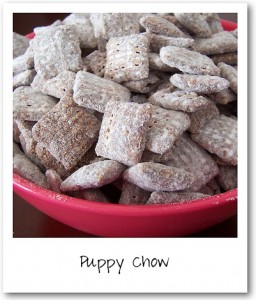 Puppy Chow is an addicting snack that looks especially cute if served in a clean dog dish.
Ingredients
Directions
Melt chocolate chips, margarine and peanut butter; stir until smooth. Add the Rice Chex and mix well. Spread on a cookie sheet and chill until firm. Break up and sprinkle with confectioner's sugar.
Notes
Store in a tightly sealed container in the refrigerator.
Related Recipes